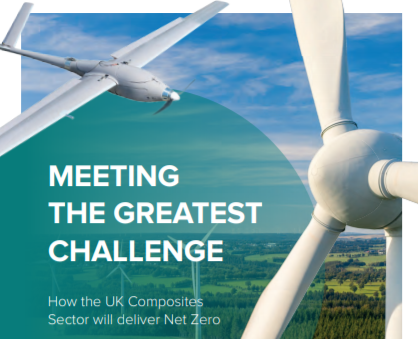 Meeting the challenge: how composites will enable the UK to achieve a Net Zero future through innovation
The Composites Leadership Forum (CLF) has released a new report, highlighting the fundamental role composite materials will play in enabling the UK to achieve a Net Zero future.
In April 2021, the UK government set some of the world's most ambitious climate change targets: a 78% reduction in carbon levels, compared to 1990, within fourteen years, and that the country would be Net Zero by 2050. Composites – will all their unique properties – are the key enabling technology that will help the UK achieve decarbonisation. They are both a strategic asset and key differentiator for the UK and will underpin government strategies around Energy, Hydrogen, Innovation, Industrial and Transport Decarbonisation, Exports and Net Zero.
The report outlines how the UK Composites industry must seize the opportunity to create the supply chain of the future, developing the products and capabilities that will underpin the Green Industrial Revolution, ensuring the UK retains the jobs, economic value and technological leadership in these critical sectors for generations to come.
The CLF was established as a result of the 2009 UK Composites Strategy, to bring independent leadership to the sector.
This new report follows on from the strategy, published by CLF in 2016, which identified the UK's need to develop higher rate and lower cost production technologies. Market data showed that this would contribute to the growth in value of UK-produced composites parts from £2.3bn in 2015, to £12.5bn in 2030. Today the CLF has added a second challenge to its strategy: the need to develop composite solutions to support the battle against climate change and decarbonise our economy. Working to understand how the UK composites industry can respond to, and capitalise upon, the new, overarching imperative of sustainability.
The CLF comprises representatives from across the UK's composite base including government departments, funding bodies, the National Composites Centre, the industry trade body Composites UK and key industrial organisations who make up the backbone of the UK's engineering sector. The CLF works to ensure the UK's continued global success.