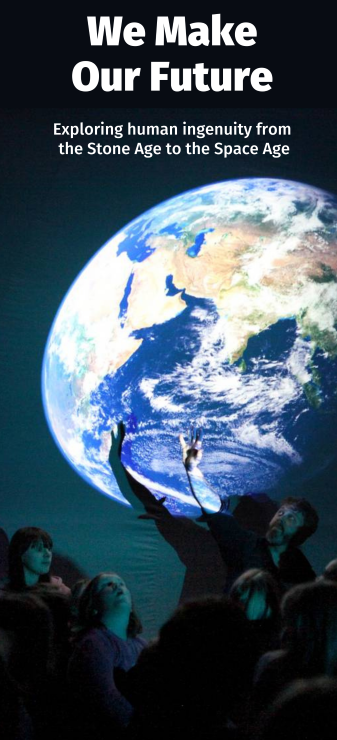 The Engineering Outreach team at UWE Bristol are sending engaging role models, alongside a fully immersive planetarium show, into schools to inspire local children to think creatively – like an engineer – and design a sustainable future for our planet.
The "We Make Our Future" show was developed in collaboration with the science entertainment wizards from Explorer Dome, the Bristol-based mobile planetarium company, and funded initially by the Digital Engineering Technology and Innovation (DETI) initiative. Today new support for the educational show has been announced by the Royal Academy of Engineering's public engagement grant scheme – Ingenious.
This funding will allow Explorer Dome to take the show to 4000 more children in the West of England. As well as enabling the team to incorporate videos from local engineers, to showcase the breadth of people in engineering and inspire the diverse and socially conscious engineers of tomorrow. 
"There are so many inspiring engineers and careers in the West of England and we've been celebrating this diversity with our Engineering Curiosity card set as part of our DETI Inspire work," said UWE Bristol's project lead, Associate Professor Laura Fogg-Rogers.
"We're now really excited to bring their stories to the big screen – inside a huge inflatable dome with surround sound to inspire the engineers of the future!"
We Make Our Future
The 360° digital projections in the mobile planetariums take children on a journey – exploring the history of human ingenuity, from the Stone Age to the Space Age, then pivoting to focus on humanity's current big challenge – tackling climate change.
Reducing our carbon emissions means redesigning nearly everything we use in the modern world – a vast job that requires lots of imagination and a whole myriad of skills and techniques. And whilst the West of England is a hotbed for engineering, there is a shortfall of skills in the workforce.
This initiative looks to address the skills shortfall of the future by encouraging young people to see themselves as engineers. Role models are key to children envisioning themselves in future careers, which is why including diverse engineers is crucial.
"We were honoured to showcase our dome experience at COP26, and it was clear that seeing real-life engineers tackling these big problems was inspirational to audiences," said Explorer Dome Director and Senior Presenter, Joshua Yates. "That's why we want to hear from diverse engineers making a difference and support them to tell their stories to young people across the West".  
In the next few months, the team at UWE Bristol and Explorer Dome will be recruiting local engineers and training them to engage young people, then selecting five engineers to make inspiring films in their workplaces. Training will enhance the engineers' ability to communicate sustainability solutions in a positive way – something which is hugely important to change attitudes and behaviours towards climate action.
Films of sustainability engineers at their workplaces will showcase how the engineering design process can address the Climate and Ecological Emergency. All adding to the show's ability to light up the imaginations of the next generation as it travels throughout the region.
If you're a local engineer with a sustainability focus – please do get in touch to get involved with our training – [email protected]
Additional information
The show was first presented to the public at the COP26 Planetarium in November 2021 and has now visited several schools in the region. The Ingenious bid enhances the legacy of the show, by enabling Explorer Dome to physically visit 10 schools, along with 10 Zoom shows, reaching around 4000 children aged 8 –13 years from across the West of England in total. All with no charge to the schools or children's families.
Diversity in the engineering workforce is very low, therefore this project will target underrepresented populations many of which can be found in areas and schools within the top 25% most deprived neighbourhoods of the West of England.