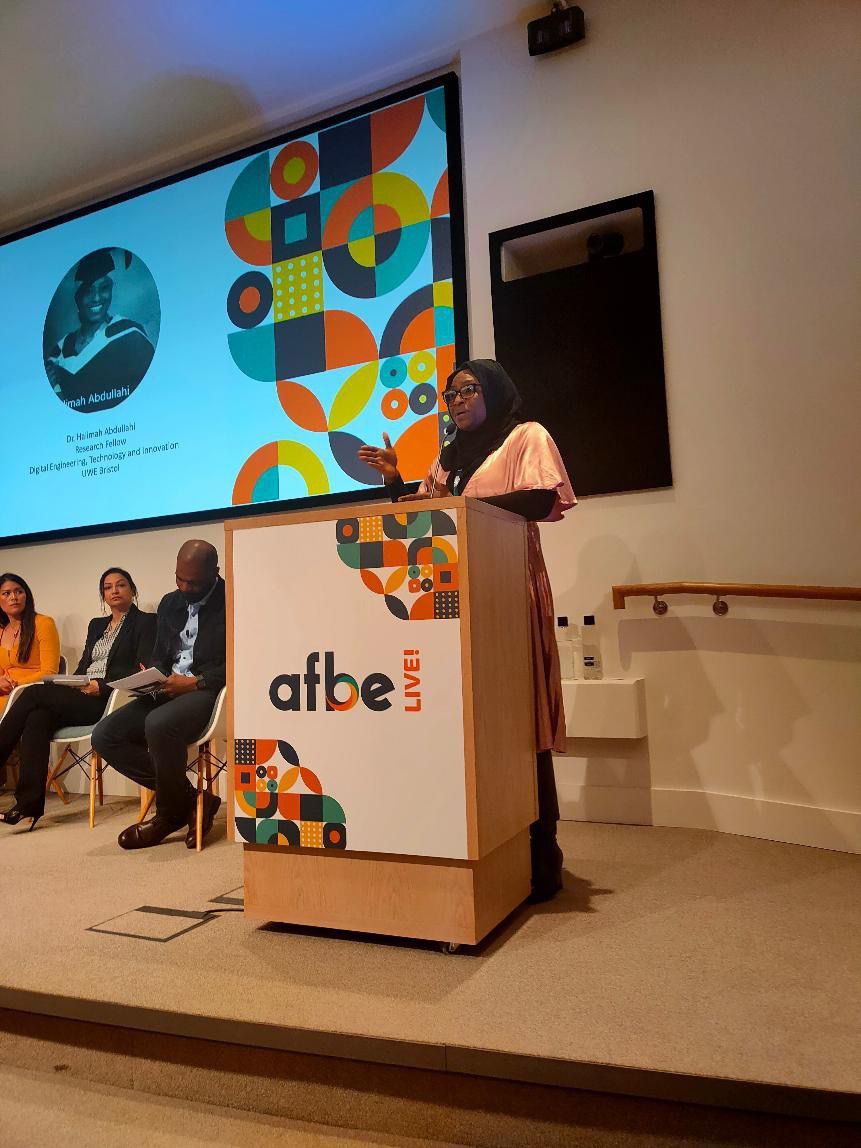 The Association for Black and Minority Ethnic Engineers – AFBE live – held their first annual conference in April, sending happy UWE staff and students home with some sparkling trophies.
The conference was held at IET savoy place, London, and UWE Research Fellow, Halimah Abdullahi, was runner up in the Next Big Idea Competition – Covid and Diversity & Inclusion category – for her presentation on UWE investigations on how to make engineering inclusive for everyone.
Halima's work is part of the Digital Engineering Technology & Innovation (DETI) Skills project.
Halimah described the conference as "mind blowing" and "the best event I have attended". 
There was also success for UWE students Namlan Oulai Siaba and Moataz Hassan, who came 3rd and 4th place respectively in the Tech Innovation category.
The conference was also attended by UWE's Associate Professor in Assistive Robotics, Virginia Ruiz Garate, who represented UWE at the speed networking event. And Lecturer in Systems Engineering, Amina Hamoud sat on the judging panel for the Next Big Idea Competition.
More about the conference
The conference theme was "The Future of Engineering: Sustainability, Innovation and Diversity", and 537 people turned up to listen from a host of great speakers, and participate in the many networking opportunities and competitions.
The keynote speakers were Chi Onwurah, MP for Newcastle Central, Dame Ottoline Leyser, CEO of UK Research, and Innovation (UKRI) and Chris Knibb, Head of Corporate Communications, IET. With Chi Onwurah urging everyone to consider getting involved with policy as a way of using engineering expertise and thinking to benefit the society.
Co-founders of AFBE-UK, Dr Nike Folayan and Dr Ollie Folayan, delivered speeches on the background and growth of AFBE. Other speakers included Mark Martin MBE, co-founder of UK BlackTech; Janice Mair, director of people, culture and diversity at EnQuest; Dr Shola Mos-Shogbamimu, public speaker and political commentator; former NBA star John Amaechi OBE, CEO of APS Intelligence and best-selling New York Times author; Shereen Daniels, managing director of anti-racism and racial equity advisory firm, HR rewired; and Ortis Deley, host of Channel 5's The Gadget Show.