For COP26, the DETI Skills Inspire team, in collaboration with planetarium experts Explorer Dome, created a new experience to celebrate the ingenuity of human engineering.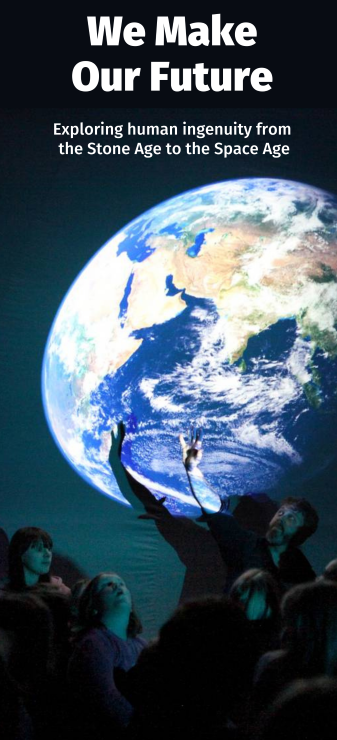 It also addresses current issues around climate change, and introduces engineering as a relevant and attainable aspiration for all young people. The new show, called 'We Make Our Future', was showcased in the Green Zone of COP26 Glasgow in November 2021.
The show is presenter-led, interactive, educational and entertaining, to inspire the next generation of engineers. The experience highlights the urgent need for climate action along with the potential of green technology for economic and social progress. Inside the mobile Explorer Dome, 360° digital projections allow audiences to visit engineering marvels from history and explore the pros and cons of technology in modern life. Design thinking offers hope to young children that humanity can solve global problems and bring about real change.
Children are asked to use their imagination and creativity to come up with ideas and suggestions for sustainable solutions that address climate challenges.
Between June 2021 and February 2022, We Make Our Future has been presented to 12 schools from the West of England– 8 in-person, plus a further four schools online. This equates to 1,458 children, from 49 classes, from years 3 through 7.
More schools have booked shows to take place in 2022 & in 2023, and the show is also available as a paid for service through Explorer Dome.