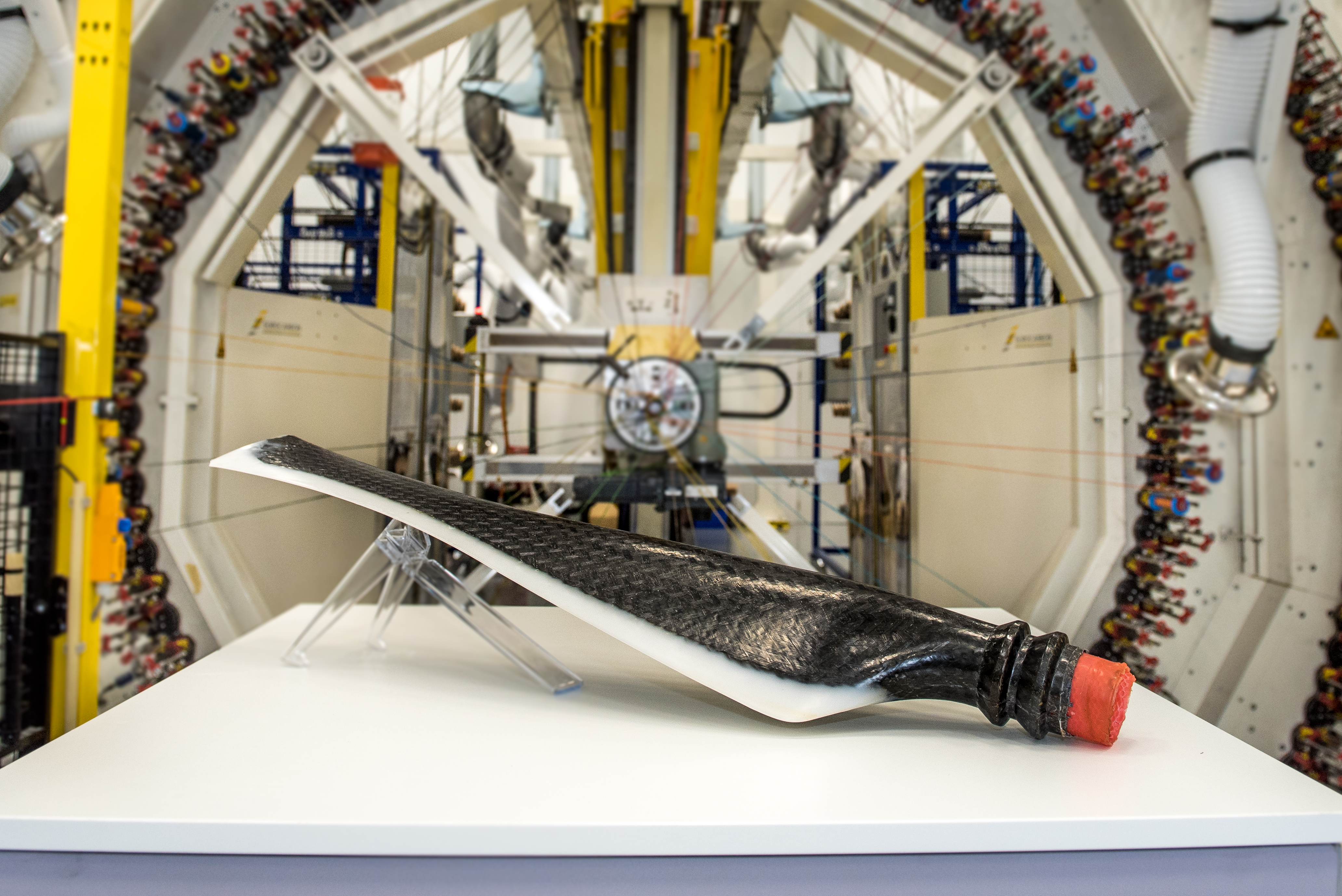 Engineers from the National Composites Centre (NCC) have designed and manufactured a full-scale prototype propeller blade using a novel process that's never been attempted before in this application, as part of an exciting £20 million R&D programme led by Dowty Propellers.
The four-year Digital Propulsion (DigiProp) programme sought to innovate every aspect of the design, manufacture and testing of Dowty's propeller systems to develop blades that not only reduce costs but improve performance. The outcomes could mark a step change for future sustainable and low-cost air travel.
Working on the programme with Dowty and fellow centres from the High Value Manufacturing (HVM) Catapult – the University of Sheffield Advanced Manufacturing Research Centre (AMRC) and the Manufacturing Technology Centre (MTC) – the NCC team identified triaxial carbon fibre braiding technology of advanced thermoplastic composites as a low-cost, automatable, high performance and environmentally friendly manufacturing process. Thermoplastic composites can be recycled by being melted down and formed into another product, therefore reducing waste. The whole process is automatable, resulting in a reduced number of defects and less reworking required.
Thermoplastic triaxial braiding for the structural component of a propeller blade has not been attempted before. For smaller propeller blades, the NCC discovered that it is a quicker and easier manufacturing process with very significant cost benefits.
DigiProp was launched in 2017 to ensure UK manufacturers lead the way in sustainable propulsion technology for turboprop aircraft as the demand for cleaner, low-cost air travel continues to increase and drive innovation in aircraft design. Dowty Propellers said the subject matter expertise offered by the three HVM Catapult centres on both established and emerging technologies has allowed it to unlock some of the best, next-generation capabilities and innovations that the UK has to offer.
The composites and manufacturing expertise from the NCC, AMRC and MTC has transferred the complex technology of triaxial braiding into industrial reality, leveraging the directional properties of composites to deliver performance and strength, while maximising the benefits of lightweight properties to enable an overall blade weight reduction.
Henry Johnston, President at Dowty Propellers, said: "This is the biggest research project we have ever undertaken at Dowty and it couldn't have been better timed. We now have an advanced suite of new technologies, leaving us well positioned for the sustainable platform acceleration that is happening post-Covid."
Eoin Simon, Head of Engineering Development at the National Composites Centre, said: "Working with Dowty and our fellow HVM Catapult centres on DigiProp has been a unique opportunity for the NCC to develop digital manufacturing technologies and manufacturing solutions for blade designs, with wider applications for other hollow 3D structures. This includes economically recyclable composite components for smaller electrical air vehicles. The knowledge and expertise built through DigiProp has also led us to another project, looking at the development of a composite mountain bike using a similar manufacturing technique, demonstrating how composites can drive innovation for a variety of applications."
There were a number of other areas that Dowty Propellers explored with partners during the project. For example, with the MTC, a digital twin was introduced during the development of Dowty Propellers' new factory, which not only optimised the factory's footprint but also identified process bottlenecks. The outputs deliver reduced manufacturing time and energy consumption, improved first time yield performance, and accelerated time to market for customers.
Through complex data models, the project will deliver system-wide aerodynamic and acoustic performance improvements for Dowty Propellers' customers and has laid the foundation for the use of big data with the creation of a digital thread.
Jonathan Chestney, Engineering Leader at Dowty Propellers, said: "The parametric propeller systems model we have developed allows us to use vastly more variables than a human mind could ever compute, allowing us to deliver thousands of years' worth of manual calculation in a matter of weeks. This gives our customers a faster design response and higher level of design optimisation than ever before."
Dowty Propellers is now beginning to use the next generation technologies realised in DigiProp for evolving aircraft applications and to target next-generation platforms. Potential customers are benefiting from its ability to support customer attribute trade studies with short turnaround time on performance analysis. 
DigiProp was funded by industry and through the ATI Programme, a joint Government and industry investment to maintain and grow the UK's competitive position in civil aerospace design and manufacture. The programme, delivered through a partnership between the Aerospace Technology Institute (ATI), Department for Business, Energy & Industrial Strategy (BEIS) and Innovate UK, addresses technology, capability and supply chain challenges.