Engineers at the National Composites Centre (NCC) have completed a European first by manufacturing Ceramic Matrix Composites (CMCs) using Automated Fibre Placement (AFP) technology, paving the way for the high-temperature capabilities of these materials to be unlocked within engines – making them more efficient and reducing CO₂ emissions.
The project – completed as part of the NCC's Core Research programme, and supported by Rolls-Royce, Reaction Engines, MBDA and 3M – has demonstrated that a novel oxide-based ceramic tow-preg material from 3M can be used in automated deposition.
Whilst conventional Nickel based superalloys have a maximum continuous temperature of approximately 800°C, oxide-based CMCs can operate at 1000°C, with the higher operating temperature potentially improving the efficiency of aerospace engines and reducing fuel consumption and the subsequent CO₂ emissions.
However, the widespread use of CMCs is currently limited to high value applications, such as heat shields and turbine vanes. Being able to process a more affordable version of the material using AFP technology will reduce the final cost of making CMC parts, making them a more appealing proposition for industries who require components that can withstand high temperatures. Furthermore, using an automated process will offer excellent control over material deposition and could prove a vital innovation to improve material consistency.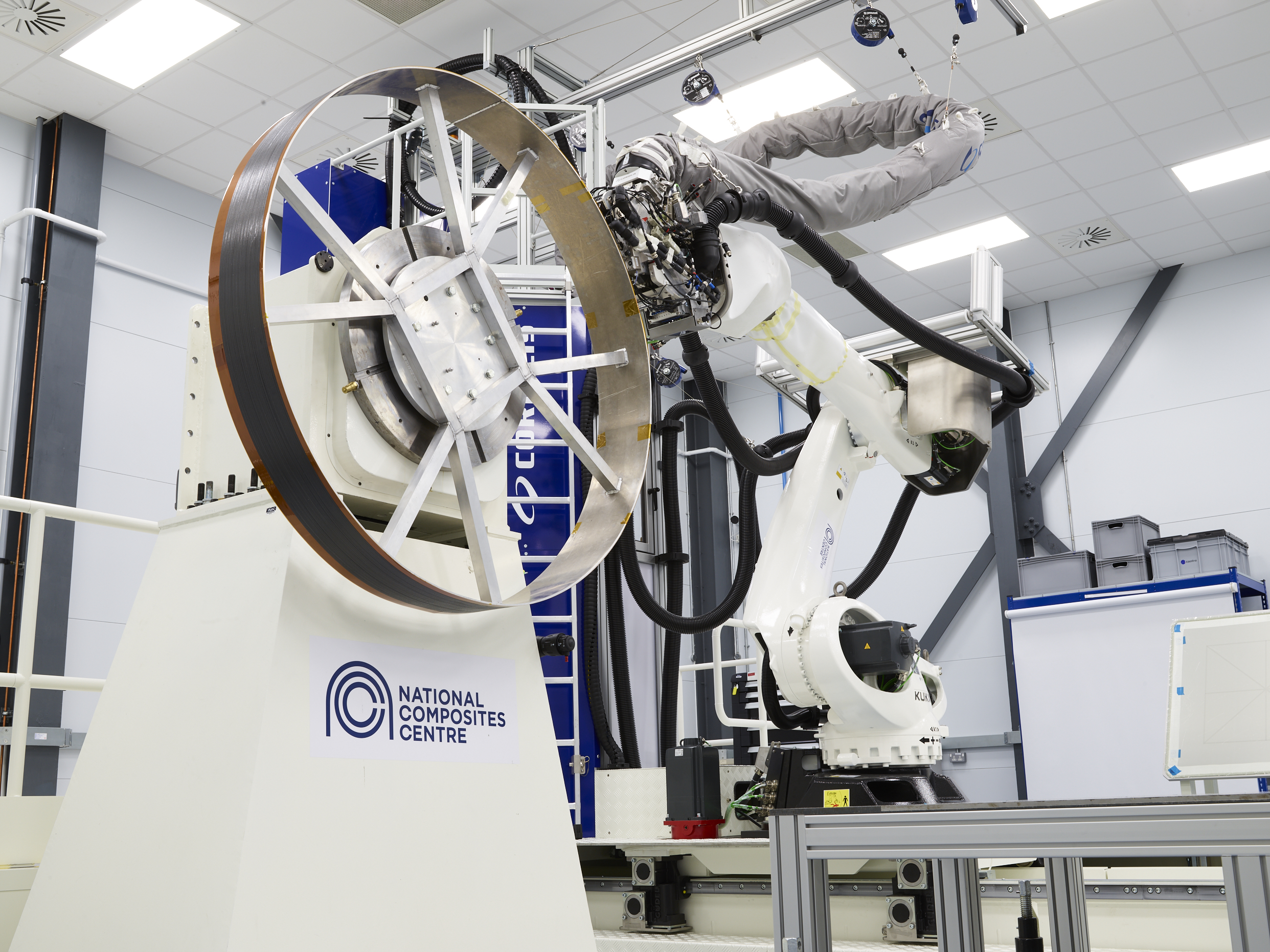 The project team adapted existing AFP technology, typically used to process organic matrix composites, like carbon fibre reinforced epoxy materials, to process 3M's material. They also investigated how process parameters such as speed, heat and compaction force influence the material deposition and quality, establishing the UK's foundational knowledge of automated ceramic composite processing which can be exploited by UK industries.
Identifying the optimal deposition parameters reduces the material variability, removing one of the largest challenges for CMCs to be used more widely. This could also lower the cost of CMCs and create less waste.
Dr. Dave King, Engineering Capability Lead for Advanced Materials at the NCC, said: "By manufacturing 3D trial parts, we have demonstrated compatibility of CMC Towpregs with existing AFP equipment. In the next year we hope to use our optimised manufacturing parameters to create even more complex geometries, starting with curved surfaces, to closer represent industrial parts. With 3M's support, we are also investigating wider material formats to reduce the number of inter tape joints in the material to increase its performance. These factors are critical for their deployment in industry."
Angus Braithwaite, Senior Materials Engineer at Reaction Engines, added: "Alongside the development of its air breathing, high speed propulsion systems, Reaction Engines recognises that CMCs will play an important part in optimising space-access, high-speed flight and other cutting edge aerospace applications. Solving the high-cost/low-volume manufacture constraints currently associated with CMCs and their supply chain would greatly contribute to advancing progress in these sectors. Reaction Engines welcome the opportunity to support the AFP-CMC Core project at the NCC. The project has successfully demonstrated Europe's first manufacture of AFP-CMC and shows greater potential for the wider CMC industry."
The NCC is part of the High Value Manufacturing Catapult. Each year it undertakes core research where members can drive the technical direction and access research outputs over 15 times the value of their contribution through the collaborative nature of the programme. The NCC's contribution to the programme consists of thought leadership and financial investment in all elements the programme, which it is able to do thanks to funding from Innovate UK, part of UKRI.