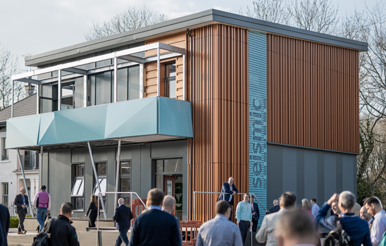 Seismic has won the Modern Methods of Construction category at the 16th National Constructing Excellence Awards, which took place on 18th November, at the London Marriot Grosvenor Square.
The National Awards showcase excellence in the built environment across England and Wales, bringing together the regional winners from sixteen different categories to celebrate the very best nationally. Seismic was one of seven finalists for the category award which demonstrates the important role in recognising and inspiring innovation and high performance in the sector.
Seismic takes a platform-based approach for construction projects that use the latest in digital and manufacturing technologies, delivering higher performing and better-quality buildings that could be mass produced and delivered within shorter timescales. It was developed by a consortium comprising consultancy blacc, offsite manufacturers Algeco, McAvoy, Tata Steel, the Manufacturing Technology Centre (MTC), the National Composite Centre (NCC) and Specific, part of Swansea University.
The win for the Seismic was underpinned by its success in exceeding the government's Construction 2025 targets which it was designed in line with. Part funded by the Transforming Construction Challenge, part of UK Research and Innovation, Seismic exceeds them in every way, delivering a building that is 75% faster to complete, 70% lower in carbon impact and 47% better value than traditional construction. As it is platform-based it is future proofed, and as manufacturing becomes more efficient and new technology comes to market, better solutions can be switched in as and when appropriate.
Carys Holloway, Technology Programme Manager - Construction & Infrastructure at the National Composites Centre said, "We are very proud to be part of the Seismic consortium and are delighted with the award which demonstrates the value of a standardised, faster, and lower carbon platform-based approach to construction."
Seismic, a previous winner at the regional Constructing Excellence awards has also been a finalist at the Offsite Awards.  A full list of all winners at the 2022 National Constructing Excellence awards can be found here.