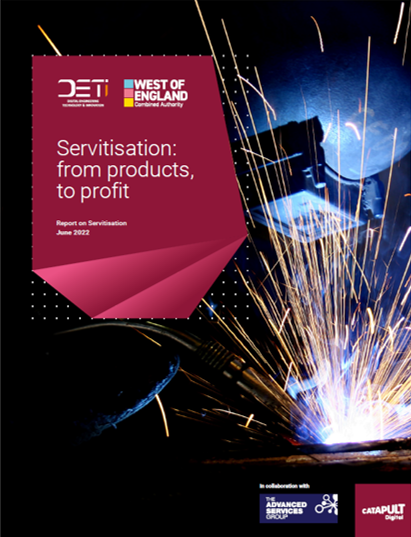 In recent years, the UK manufacturing industry has witnessed a rise in servitisation-based business models, with 2020 reports suggesting that 78% of manufacturers surveyed were either developing, or are already offering, services as an alternate revenue stream. However, despite increasing interest towards the incorporation of servitisation models, uptake in the UK is not as widespread as it could be.
This report explores the business case for servitisation to UK industry, as well as current applications and potential blockers to the practice – particularly in relation to the South West of England and Wales, an area rich in manufacturing subsectors, such as Aerospace and Defence, that could stand to benefit from it.
Produced under the Digital Engineering Technology & Innovation (DETI) programme, and written by DETI Partner, Digital Catapult, this report assesses the role that servitisation may have in improving manufacturing productivity and contributing to the UK economy, and current practices in the UK and further afield, as well as the appetite and scope for a servitisation centre of excellence in the South West of England region.