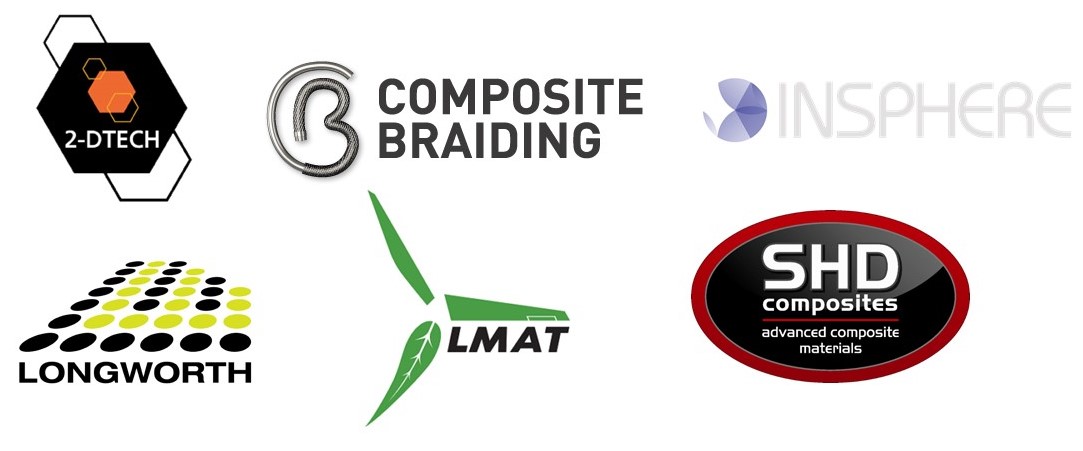 The NCC is delighted to welcome six innovative companies to the SME Affiliate Scheme.
B&M Longworth, Composite Braiding, INSPHERE, LMAT, SHD Composites, and 2-DTech have all joined the scheme that gives small and medium-sized enterprises affordable access to the NCC's capabilities, expertise, training and networks.
"We want to ensure that composite materials research and development is as accessible as possible for all organisations, and we're delighted to have these six fantastic SMEs on board to take advantage of our new Affiliate Scheme," said Leah Rider, Technology Programme Manager at the NCC. "The scheme, launched just a few months ago, allows SMEs to gain easy access to knowledge, training and networking events that will help them take full advantage of composites in their business."
B&M Longworth Ltd is a global leader in the latest component cleaning solutions and are in the early stages of commercialising their worldwide recycling technology IP. They joined the SME Affiliate Scheme to better understand and forge relationships within the composites industry.
Composite Braiding focus on higher volume, lower cost structural composite components. The winners of two global innovation awards, their technology can produce over a mile of thermoplastic composite materials in one shift, greatly reducing costs, and all materials are more inherently sustainable.
INSPHERE Ltd are recognised experts in measurement and automation. They are currently commercialising their patented IONA system for robot monitoring and control, which will be a key enabler for the successful introduction of automation in composites manufacturing across all sectors.
LMAT provides design and compensation of tools for composite production. They work closely with the aerospace, wind energy and automotive industries, improving composite production methods and overall product quality.
SHD Composite Materials Limited is a privately owned developer and manufacturer of advanced resins, which are applied to a wide range of fibres and fabrics to produce technically advanced prepreg systems. With bases in the UK, Slovenia and the USA, SHD Composites service a wide range of markets, from aerospace and defence to automotive and industrial.
2-DTech are award-winning manufacturers of Graphene, whose innovative engineering solutions are capable of game-changing impact in a broad variety of sectors. Their POLYGRENE™ thermoset resins are ideal for fibre reinforced polymer (FRP) composite laminate applications used in a range of manufacturing processes.
SMEs can sign up to a year-long affiliation, which provides places on specialist training courses, exclusive access to networking events and knowledge sharing sessions with other NCC Members, which address industry challenges. In addition, SMEs will be able to take a desk at the NCC's HQ in Bristol where they will be co-located with some of the UK's major innovators, including the NCC's own specialist engineers. Training on the NCC's technologies that can help SMEs innovate such as resin injection, 3D printing and Tailored Fibre Placement, and on leading software packages, is also included.
Find out more about the SME Affiliate Scheme here.