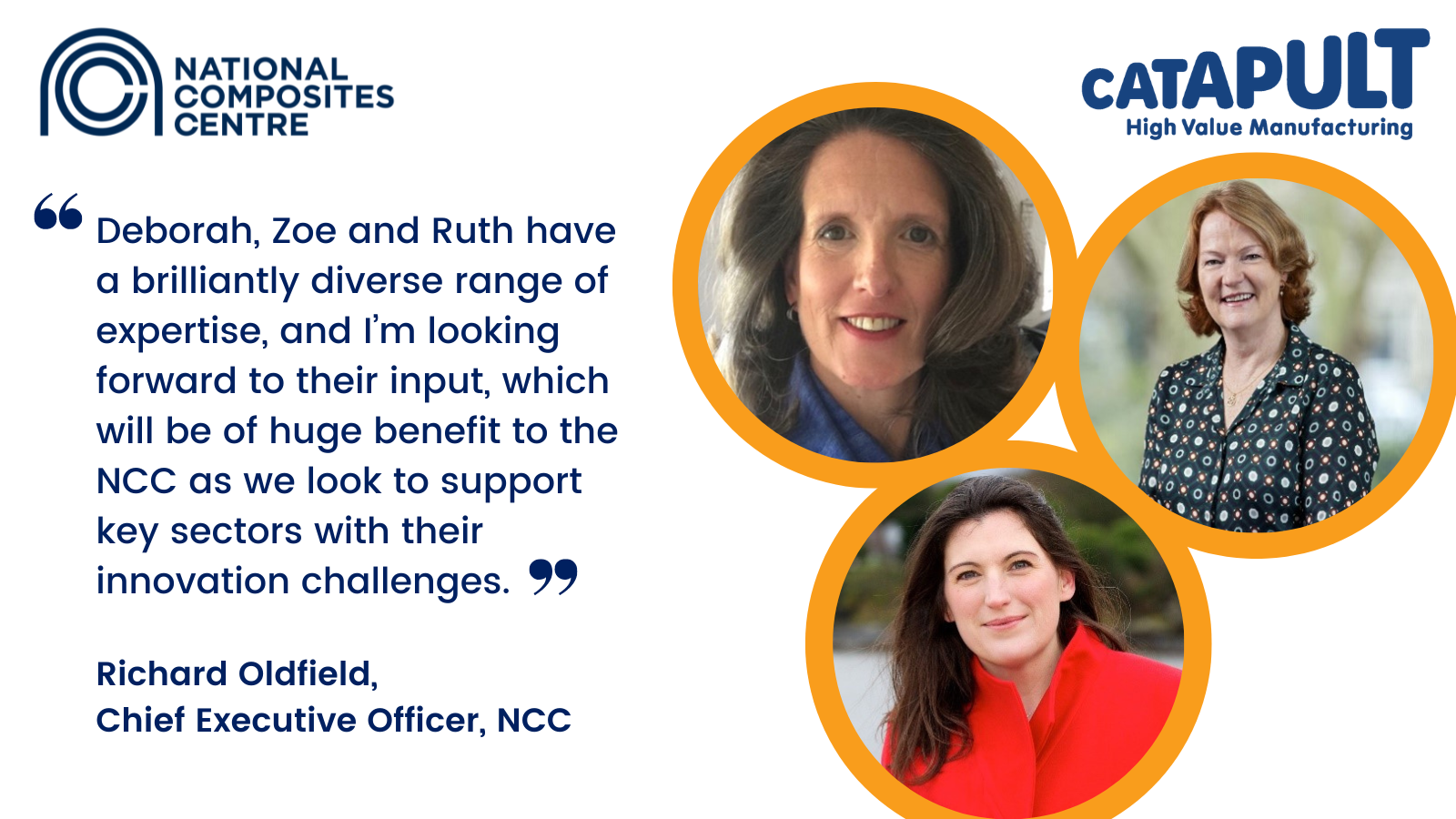 The National Composites Centre (NCC) is delighted to welcome three new Non-Executive Directors. Dr. Deborah Allen, Zoe Barnes and Dr. Ruth Mallors-Ray have a wealth of experience spanning multiple sectors, and will offer independent challenge and guidance to the NCC to ensure it achieves its strategic objectives in enabling UK industry to thrive and meet the net zero challenges.
Dr. Deborah Allen has more than 30 years sustainability experience across both consultancy and industry, and is currently leading the global programmes on climate resilience, environment and infrastructure at BAE Systems. Vice chair and non-executive director of the EM3 Local Enterprise Partnership, Deborah also chairs the Green Defence Task Force for the European Aerospace, Defence and Security (ASD) group of companies.
Zoe Barnes has worked in the wind industry for 19 years, initially in R&D for a turbine manufacturer and more recently in offshore wind strategic consultancy. Currently a partner in Everoze, working primarily within Quaybridge, Zoe's work is primarily focused on innovation, supply chain and industry strategic development. Zoe is also a Non-Executive Director for the Offshore Wind Growth Parntership and co-chairs the UK FLOW Task Force Working Groups.
Dr. Ruth Mallors-Ray is a consultant facilitating discussions between industry, government and academia, with a current portfolio spanning a range of sectors including manufacturing, aviation and emergent sectors such as Hydrogen. Ruth has held positions as the Chief Operating Officer of the Aerospace Technology Institute and Director of the Aerospace, Aviation and Defence Knowledge Transfer Network, developing a deep understanding of how government, industry and academia work together on innovation agendas.
"I'm very pleased Deborah, Zoe and Ruth have joined the NCC as Non-Executive Directors," said Richard Oldfield, Chief Executive at the NCC. "They have a brilliantly diverse range of expertise, and I'm looking forward to their input, which will be of huge benefit to the NCC as we look to support key sectors with their innovation challenges."