The Digital Engineering Technology & Innovation (DETI) programme reports pioneering results after 12 months
DETI develops unique digital tools - the eco-meter - to help UK businesses achieve low carbon manufacturing
DETI Skills Inspire supports the next generation of engineers, reaching 3,400 local pupils in its first year
2nd August 21, Bristol: A visualisation tool that displays the carbon emissions of parts in manufacture in real-time, augmented reality that can detect faults quickly on in-service wind turbines and machine learning models that can capture and correct errors during the manufacture of an aircraft wing. These are just a snapshot of the digital technologies DETI has developed to help UK manufacturers achieve better sustainability, detailed in the partnership's Digital Now report.
Presenting nine key results, Digital Now introduces industry firsts including the DETI digital eco-meter which allows engineers to visualise the carbon footprint during manufacture of a composite product, such as a carbon fibre aircraft wing or car component. Using the eco-meter engineers can see - for the first time - the environmental impact of the parts they are making, giving them the chance to improve processes and cut emissions during manufacture.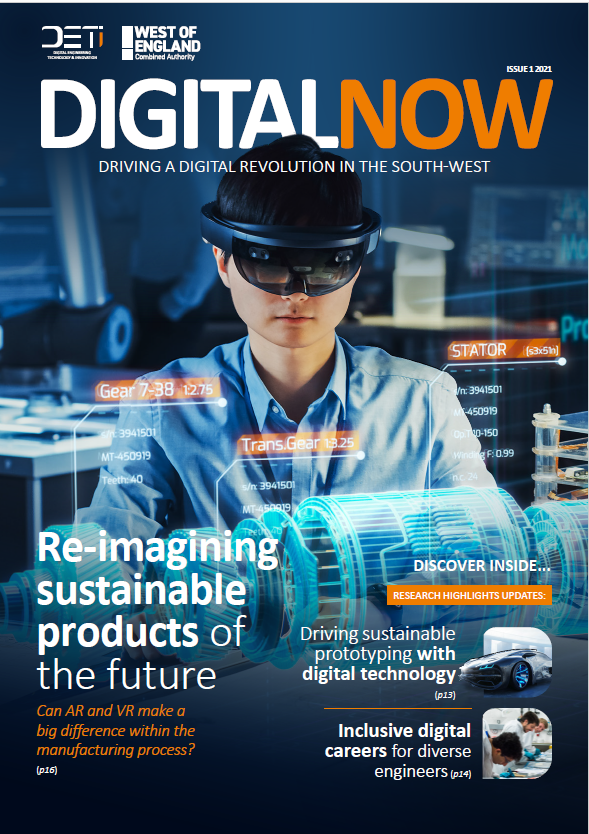 DETI has also revealed the successful trial of a digital system that monitors component build quality in real-time. Aimed at high-performance composites manufacture which must be cured in ovens, the system allows vital interventions to be made when it is impossible to visually monitor the build quality. In aerospace, marine and automotive sectors that use this type of manufacturing technique heavily, this tool could improve sustainability and time to market substantially.
Made possible by a £5m investment from the West of England Combined Authority with co-investment from the High Value Manufacturing Catapult and industry, DETI is delivered by the National Composites Centre, the Centre for Modelling & Simulation, Digital Catapult, the University of the West of England, the University of Bristol and the University of Bath.
DETI's vision is to help UK manufacturers achieve better through-life product sustainability, efficiency and low carbon processes using a series of industry test beds that exploit the power of emerging technologies like 5G, quantum key distribution and advanced sensorisation. As a true research and skills initiative, DETI is also working closely with schools and colleges in the West of England on inclusive STEM careers outreach.
The partnership has also shared its work in augmented reality, reporting on a novel software system developed by DETI engineers that helps improve fault detection within a manufactured product; another example of DETI's commitment to cutting waste and improving efficiency. Engineers have also tested a range of 'off-the-shelf' augmented reality and virtual reality tools to trial virtual 3D design applications creating best practice guidelines for businesses who want to explore the realms of immersive technology.
Also included in the report is DETI's UK first 'Quantum Key Distribution' network engineered in partnership with BT and Toshiba. Offering a super-fast, super-secure communications network has allowed engineers and researchers to share live information, design data and manufacture part of a product remotely, delivering on the global challenge to forge a digital supply chain, bringing fully automated smart factories closer.
The Digital Now report also contains key learnings from the West of England based DETI Skills Inspire & Transform programmes, working to ensure the future workforce is digital-ready whilst championing diversity and inclusivity. It also details plans for secondary school digital engineering resources focusing on sustainability which will be deployed in 2021.
Announcing the DETI Results Report, Dan Norris, West of England Metro Mayor: "There is a climate and biodiversity emergency so shifting towards a low-carbon economy is vital. The Digital Engineering Technology & Innovation programme is building the digital skills and technologies we need, showing the West of England as the go to place for high value design and engineering in the UK and the world. In turn it will create more quality jobs for our residents, and make sure our region has the knowledge and ability to find new, sustainable ways of doing things."
Marc Funnell, Director of Digital Engineering & DETI, National Composites Centre: "We listened to what industry needed and we are delivering a practical, focused innovation programme that is making great advances in the use of digital tools for manufacturers in our region. Our digital test beds and engineering capabilities are open access and targeted at providing physical demonstrations to demystify digital transformation for industry of all sizes."
With another year remaining, DETI will be switching its focus to proving and enhancing many of these new digital tools using the private 5G test bed built in partnership with the 5G-ENCODE programme, hosted at the National Composites Centre.
You can view or download the DETI Digital Now report here.
For media enquiries, contact Alison Little, Marketing & Communications; [email protected]
For information about collaborating or partnering with DETI; [email protected]