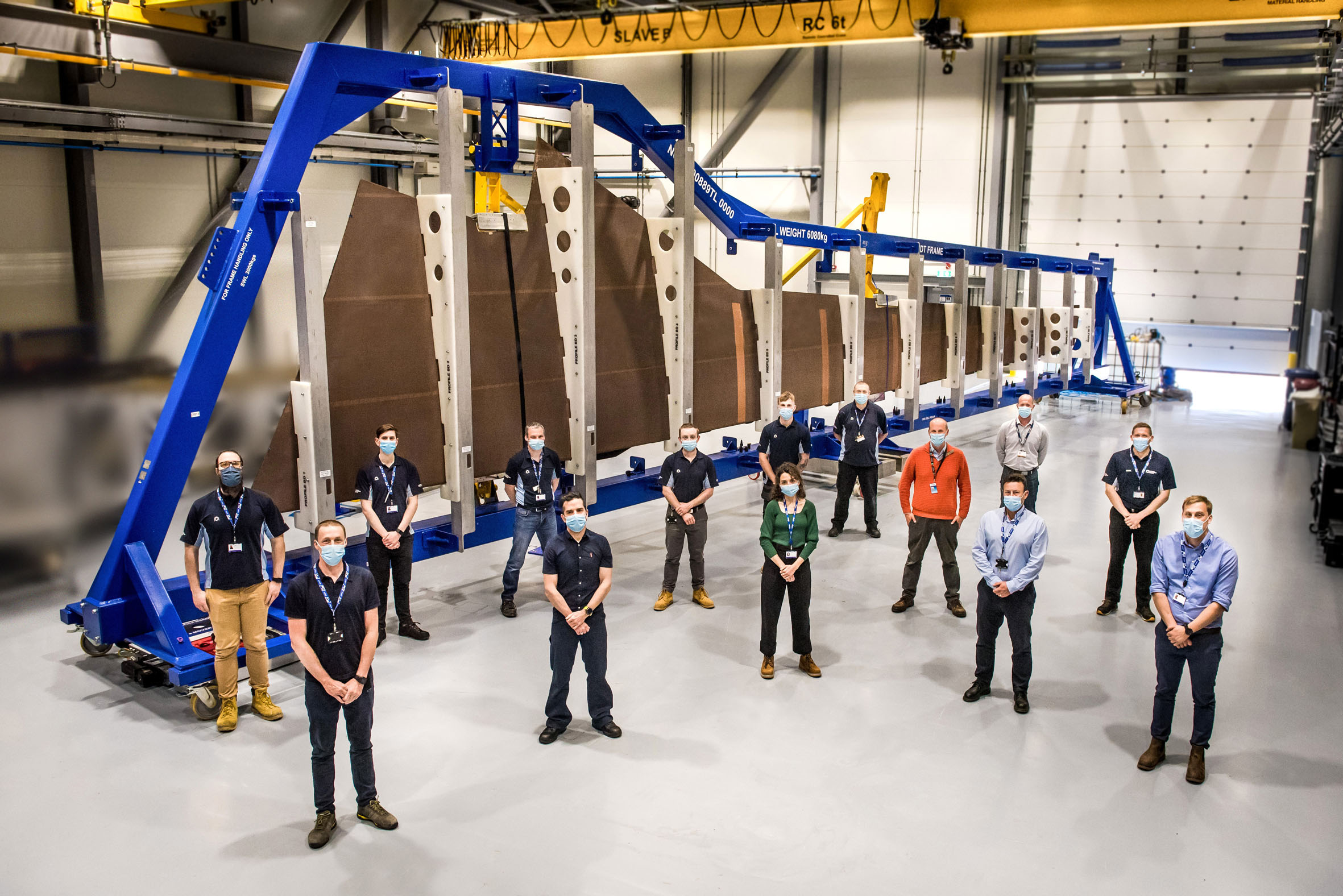 To meet increased demands in performance and production rates for the next generation of fuel efficient aircraft, and to create electric aircraft, we need to be making wings lighter and at lower cost - and producing them around 10 times faster than we do today. 
Wing of Tomorrow – the challenge
To address this challenge, Airbus has created the Wing of Tomorrow programme exploring radical new approaches to the design and manufacture of aircraft wings. The team is investigating the best materials, manufacturing and assembly techniques and new technologies in aerodynamics and wing architecture, drawing together design and manufacturing engineering teams to construct a series of full-scale demonstrators.
Composites in aircraft wings
Composites are one of the key technologies that could enable wing components to be produced with significantly reduced equipment and tooling costs, whilst also enabling a faster production cycle. It's a once-in-a-generation opportunity that could have significant impact – what the aerospace industry does today, other sectors tend to follow.
The National Composites Centre (NCC) along with GKN and Spirit AeroSystems are working closely with Airbus as part of the Wing of Tomorrow team to drive this innovation. The NCC's engineers have harnessed the power of digital technologies, design tools and robotics to design the most advanced composite manufacturing capability in the world. 
High Rate Deposition Cell
Set to unlock very high deposition rates of composite materials for single-aisle passenger aircraft wings, the NCC's "High Rate Deposition Cell" can layup 5m wide and up to 20m long composite plies in one movement. This will transform wing production by reducing the number of individual components required and increasing the production rate.
A modern wing cover is made from composite material (carbon fibre fabrics), moulded and infused with resin – the new high rate deposition process could reduce the number of pieces required to build a wing cover from roughly 100,000 to just 150. The way the materials are placed on a wing cover varies depending on the job each part has to do. The NCC design and simulation team have run through the 14,000 possible configurations of cutting and layout to create a new 'pattern book' for wing layup and developed new software, 'The Sequencer' to provide the instruction manual.
The manufacturing cell employs automation technology supplied by Güdel, Coriolis and UK manufacturer Loop Technology and comprises two bridges at 7m high by 13m wide running along a 26m track, which position two huge robotic arms to within 0.2mm accuracy when laying up. Carbon fibre fabric is cut into shape using an automated ultrasonic knife on a 20m long table positioned in the cell, then technicians can choose from two different end effectors to lay the material onto the tool. 
The 'Fibre Form' tool has 270 suction cups mounted on flexible splines, each able to position and provide suction on command. It can pick up a piece of material, carefully manipulate it into a 3D shape and then place it on a specially shaped tool and repeat the process. To deposit material even faster, the Fibre Roll tool can roll-up the ply and then lay it across the shaped tool surface.
Next steps for the NCC and Wing of Tomorrow
The NCC expects to gain a huge amount of knowledge both from the manufacturing processes and the design and simulation tools in the development of the cell to share with Airbus. This is what the NCC was created to do - to take calculated risks, to make bold ideas happen, make it viable and make it commercially available, and then target the ways of minimising the risks for customers in investing in this kind of technology.
The team are starting to lay-up demonstrator panels for the Airbus team before moving to a full-scale demonstrator.
Funded, in part, by the Aerospace Technology Institute (ATI) in collaboration with the Local Enterprise Partnership and the High Value Manufacturing Catapult, the technologies on display in the High Rate Deposition Cell are part of the NCC's ambitious £36.7m investment programme which delivered digital technologies and teams of specialist engineers, all working under one-roof to build a unique composites testing ground for industry.