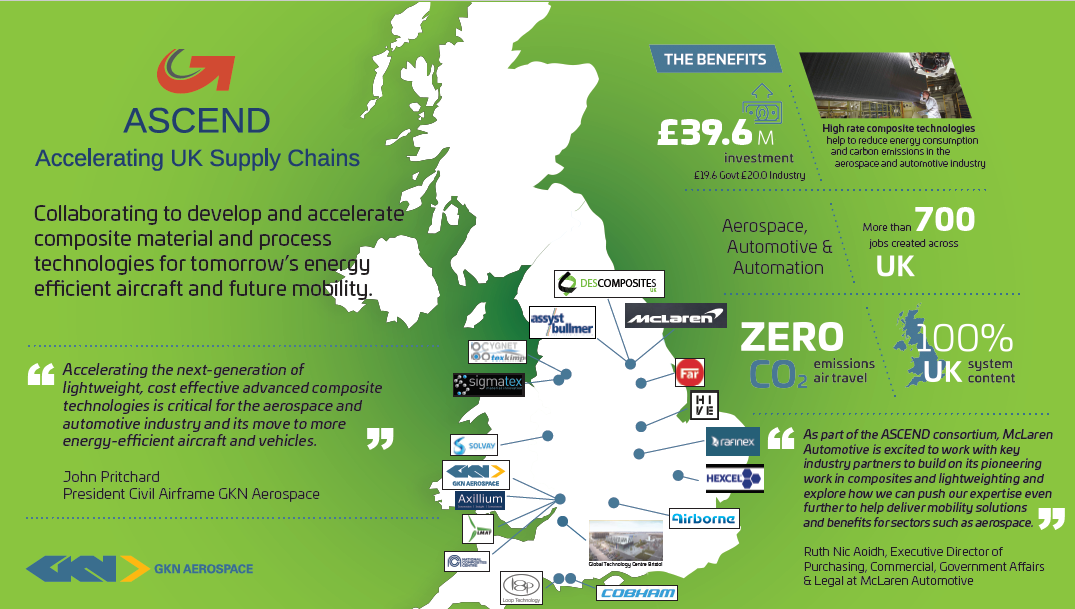 GKN Aerospace is leading a UK industry consortium called ASCEND (Aerospace and Automotive Supply Chain Enabled Development) to develop and accelerate composite material and process technologies for the next generation of energy efficient aircraft and future mobility.
The £40 million consortium is funded by a £20 million commitment from industry and a £19.6 million commitment from the UK Government via ATI and will focus on greater adoption of composite technologies today, the industrialisation of new technologies, as well as accelerating aerospace production rates to meet future high-volume requirements. The collaboration will help develop technologies from across the UK supply-chain to develop the advanced materials and automation equipment required to manufacture lightweight structures for the sustainable air mobility, aerospace and automotive industry.
Partners
The NCC joins GKN Aerospace, Assyst Bullmer, Airborne, Cobham Mission Systems Wimborne, Cygnet Texkimp, Des Composites, FAR-UK Ltd, Hexcel Composites, Hive Composites, LMAT, Loop Technology, Rafinex, Sigmatex (UK) and Solvay Composite Materials in the consortium with collaboration and investment support from Axillium Research.
Through a three-year commitment, the partnership, backed by the UK government, will bring together expertise, capabilities and resources from across the wider UK aerospace and automotive supply chain. In doing so, ASCEND will strengthen the UK's position as a technology leader in future lightweight structures and help to reduce energy consumption and carbon emissions in the aerospace and automotive industry.
How is the NCC involved?
The NCC is leading the development of a sustainability framework for the aerospace industry in the sustainable use of composites, supporting the Government's target of zero emissions by 2050. Composites are a crucial element in our journey to net zero and this work will provide the industry with the tools and methods they need to measure, analyse and improve the environmental sustainability of their products and services at every development stage. This is vital as regulations around sustainability and bring long-term competitive advantage to UK companies.
There is increasing demand for lower cost, higher rate manufacturing processes for future transport, which is driving automotive and aerospace manufacturers to research novel manufacturing technologies and new materials systems such as engineering thermoplastic matrix composites. In response to this, the NCC is also leading an activity in ASCEND to show how the thermoplastic composite overmoulding process can meet the increasing production rate requirements of future lightweight structures. The project will look at multi-materials joining, design for manufacture for the overmoulding process and will demonstrate this technology via industrial scale manufactured parts.