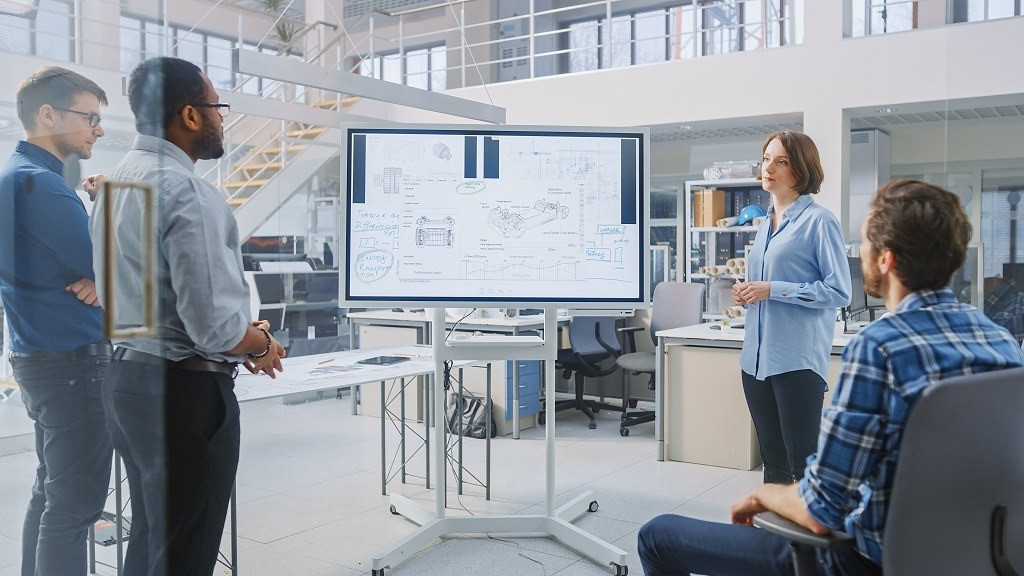 The University of Bath will lead a new People-Led Digitalisation Research Centre to support UK manufacturing companies with the uptake of digital technology.
Digital technologies have the potential to transform manufacturing by increasing productivity and opening up new business opportunities. However, the UK has had lower levels of adoption than some of our competitors.
The new £5 million People-Led Digitalisation Research Centre, led by the University of Bath, aims to increase uptake and maximise the benefits of digital technology by understanding how people interact with them.
Leading the Centre, Professor Linda Newnes from the Department for Mechanical Engineering, says:
We are very excited about the new Centre and the potential that it has to removing the digital barriers and improving the productivity of UK manufacturing. We will work closely with our non-academic partners who will help to shape our research and to translate the results into meaningful approaches for industry.
The Centre is funded by the Made Smarter Innovation programme delivered by UK Research and Innovation (UKRI). This is part of the government's £147 million investment from the UKRI Industrial Strategy Challenge Fund (ISCF) to transform UK manufacturing through digital technologies.
Led by Bath, it is a collaboration between the universities of Loughborough and Nottingham and non-academic partners including the Environment Agency, AVL, The Institute of Asset Management, Boeing and Rolls Royce. The Centre has been well supported by industry who recognise the important role that people play in the route towards digital transformation.
Speaking as lead of the Centre's industrial partner group, Dr Katherine Ibbotson, Programme Carbon and Cost Manager, Environment Agency, says:
Although digital transformation promises to bring many benefits, it is not always easy to realise its true value. There are a number of reasons for this, we find that many of the barriers can be attributed to a 'human' element e.g. lack of skills, overcoming resistance, top management support. As such, we believe that research which focusses on the people aspect of digital transformation is essential.
Kate Charles, Head of Research Development at the University of Bath, says:
This is an exciting time for the manufacturing community of researchers at Bath, with our strong history of collaboration being recognised through funding awards. The array of opportunities is allowing us to bring together Bath expertise in a truly transdisciplinary way and I am particularly pleased to see the Centre funded.
The development of the new People-Led Digitalisation Research Centre was supported by Research and Innovation Services (RIS) at the University of Bath.
More on how RIS can work with you to support your research
See the government announcement on the new £53 million funding for UK manufacturers to boost competitiveness through digital tech.
See the UKRI announcement on funding awarded to boost UK manufacturing supply chains.
About Made Smarter Innovation
Made Smarter Innovation is a national programme to help businesses who make things capitalize on new digital technologies. Our programme will support the transformation of UK's manufacturing capabilities through the development and innovation of industrial digital technologies (IDTs). We give UK manufacturers access to a digital innovation ecosystem that helps prove their idea, quickly develop it with experts and scale it. The £300 million partnership between government and industry will provide match-funding, specialist advice and result in radical manufacturing solutions. Delivered by UK Research and Innovation.