7 September 2022
NCC announces the start of a three-year major programme to rapidly scale industrial recycling of continuous carbon fibre in the UK – key to net zero ambitions.
First step is to qualify material performance by November 2022.
Team to develop series of commercial demonstrators using three grades of reclaimed carbon fibre.
Today (7 September 2022), the National Composites Centre launches an initiative to industrialise continuous carbon fibre reclamation in the UK. The three-year innovation programme will see a team of composites specialists refine and scale the industrial processes needed to establish a commercial market for reclaimed continuous carbon fibre. With global demand for virgin fibre set to exceed supply by 2025, this could ease pressure on supply chains and see the UK take a leading role in defining a new era for composites.
Whilst chopped carbon fibre is already recycled, industrial applications for the material are narrow. Working with B&M Longworth and Cygnet Texkimp, the NCC successfully trialled and tested processes to reclaim and reuse 'continuous' lengths of carbon fibre that retain a higher material performance. It is hoped that this will accelerate the creation of three different grades of carbon fibre - 'A,B and C' - to support a wider range of applications and reduce the volume of continuous carbon fibre reinforced polymer (CFRP) material sent to landfill in the UK by 50% by 2026.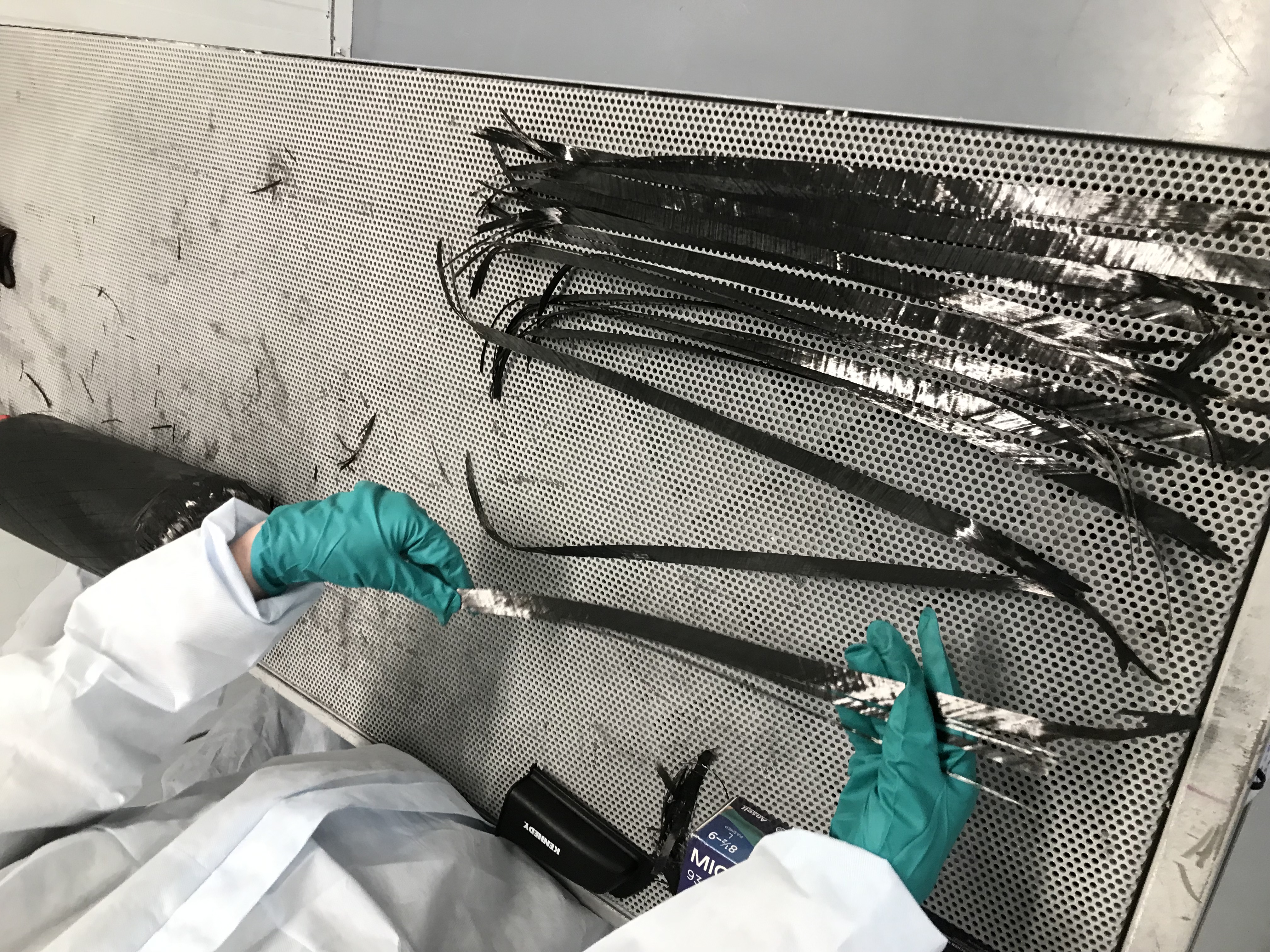 With lightweight, strong and design-friendly carbon fibre being a key component in everything from aircraft and electric vehicles to hydrogen storage tanks and the next generation of super-sized turbine blades, global demand for the material is set to outstrip supply – growing from nearly 100,000MT today to around 300,000MT by 2030. This shortage will have an impact on many sectors striving to achieve net zero goals.
One of these is the sporting goods market. Recycled carbon fibre could help makers of trainers, fishing rods, tennis racquets and bicycles substantially reduce the levels of 'embodied carbon' in their products (the amount of primary energy used, or carbon released, from the direct and indirect processes associated with manufacturing). The average running shoe currently has a carbon footprint of approximately 13.6kg carbon dioxide emissions (CO2e)[1], and manufacturing cars creates between 6,000 and 35,000kg of CO2e per vehicle from a basic to high spec options[2]. Through trials, the National Composites Centre has calculated that using reclaimed carbon fibre reduces material manufacturing emissions from around 29.5kg CO2e per kg to 5kg CO2e. 
The development of a 'second-life' supply chain may also help businesses remain profitable: with supplies of the highest quality virgin fibre likely to be claimed by aerospace and defence, sporting goods firms will need an alternative material to turn to.
This initiative, led by National Composites Centre in Bristol, a state-of-the-art composites technology facility and one of seven centres of the High Value Manufacturing Catapult, will push forward the scalable industrialisation of continuous carbon fibre recycling, building a strong supply chain in the UK.
Enrique Garcia, Chief Technology Officer at the National Composites Centre, said: "Famously, the UK leads the world in the industrialisation of carbon fibre manufacturing but has struggled to develop the sector. We exported much of our expertise – and even our manufacturing infrastructure – to Japan, which was subsequently able to capitalise on a huge growth in US defence spending in the 1980s and, later, a boom in consumer demand for high-end carbon fibre products. 
"We now have a unique opportunity to drive forward a new market by industrialising the processes required to recycle carbon fibre – it is imperative that we push hard now to establish this capability in the UK.
"We're looking to rapidly scale-up this collaboration and seek partners who would be interested in accelerating product demonstrators using reclaimed continuous fibre in order to rapidly reduce their manufacturing carbon footprint."
The team has developed a challenging route map to industrialisation, with the first sprint project expected to finalise in November 2022.
The National Composites Centre is exhibiting at Cenex-LCV in Millbrook on 7-8 September, with the team leading this initiative available at our stand at C1-04.
To find out how reclaimed continuous carbon fibre can benefit your business, you can also email [email protected] to book a free consultation.
[1] https://www.edie.net/adidas-and-allbirds-to-develop-sports-shoes-with-lowest-recorded-carbon-footprint/
[2] https://www.brusselsblog.co.uk/carbon-emissions-in-the-lifetimes-of-cars/