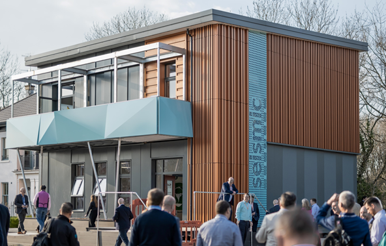 The Seismic platform has won its first award, the "Excellence in Innovation" category at the Herts and Beds Constructing Excellence Club (HBCEC) Awards 2022.
It was presented on 26th May 2022, before being followed by a tour of the demonstrator building, located at the BRE Innovation Park.
The award looked for excellence in research, product development and use, process development and the use of digital tools.
"We hope that the award is the first of many for Seismic," said Richard Crosby, director at blacc, who collected the award on behalf of the consortium. "This should boost further interest in the platform, from clients, manufacturers and throughout the construction supply chain, who will want to come and learn from the building and explore ways in which they can be involved in the future of Seismic."
The Seismic platform will now go forward to the East of England Regional Awards. If it wins here, it is then entered automatically into the National Constructing Excellence Awards, which will take place later in the year.
Shortlisted at Digital Construction NI Awards
Just a matter of days later, the Seismic platform was also shortlisted for "Best Offsite/Modular Innovation" at the Digital Construction NI Awards. All will be revealed on Thursday 16th June at Crowne Plaza Hotel, Belfast - fingers crossed!