Our three-year Composite Technician Apprenticeship combines on-the-job training at the NCC's world-leading research and development facility in Bristol, and classroom learning at Weston College. You'll be engaged in a variety of processes in the production and creation of materials and components that are used in a range of applications including airplanes, cars, boats, turbine blades and trains.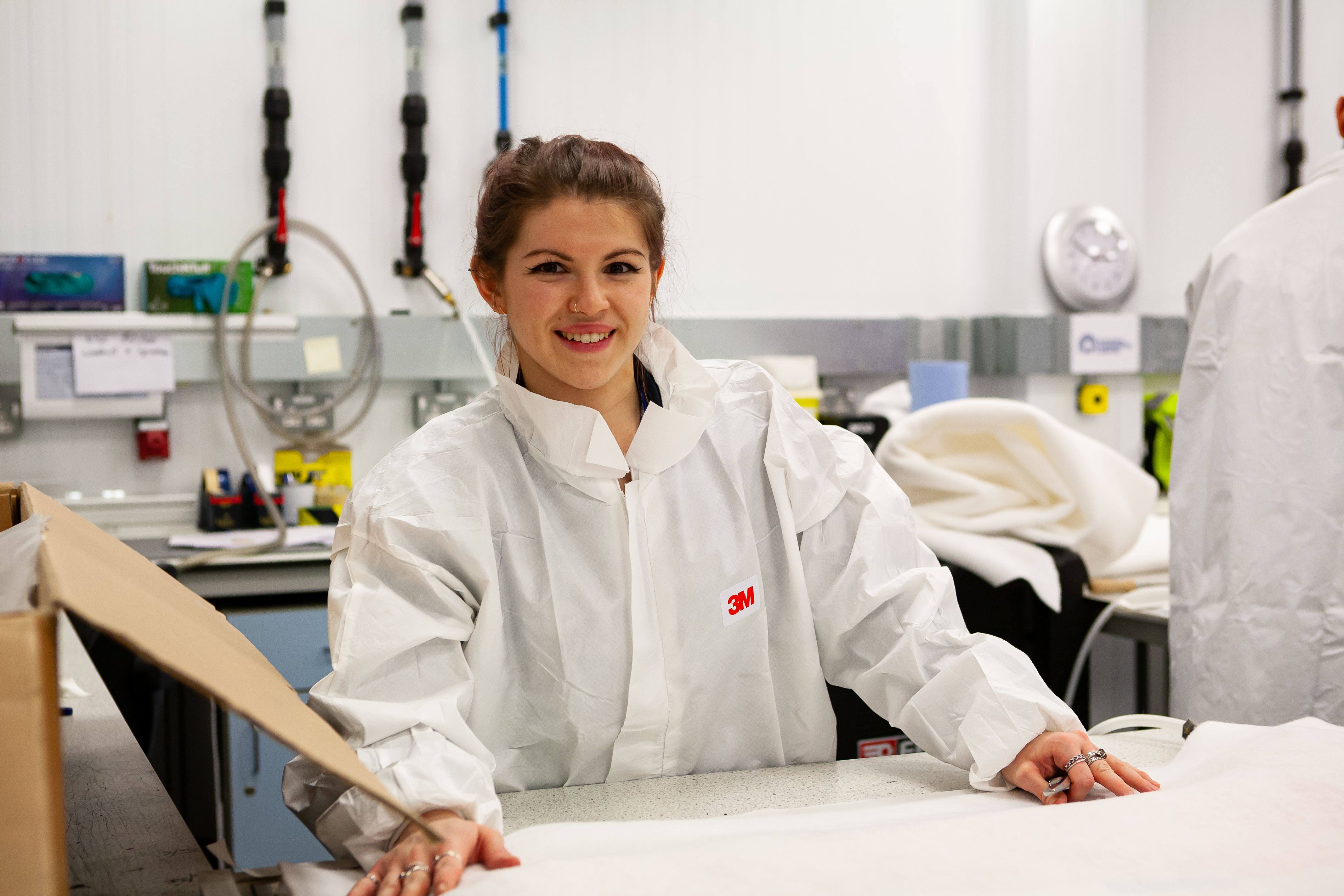 Composite technicians provide specialised knowledge and skills that support manufacturing programmes and projects and may be deployed in the areas of design, tooling, moulding, lay-up, curing, machining, inspection, testing, repair and material production.
How does the Composite Technician Apprenticeship Scheme work?
During the first year of the apprenticeship scheme, on the whole you will attend college five days a week with some days at the NCC. This will enable you to put what you have learnt at college into practice in our workshop. During years 2 and 3, you will attend college for one day during the week.
What qualification will you gain?
Through the apprenticeship, you will gain an NVQ level 2 and 3, and a technical certificate.
What can you expect from the NCC?
The NCC is a supportive and interesting place to work, with an opportunity for you to get involved in a range of exciting projects across different industries and sectors, including aerospace, automotive, energy, construction and sustainability.
All of our apprentices have a mentor, who is on hand to offer you support and guidance throughout your apprenticeship. As you progress, you will be given responsibilities and the change to take ownership of projects and areas of work.
Completing the Composite Technician Apprenticeship offers you the opportunity for further study if you wish, including a HND, HNC or a university degree. There are endless possibilities!
Many of our apprentices have made lifelong friends through completing this course, so this is much more than gaining work experience and qualifications.
What does the NCC expect from you?
Our apprentices must have a willingness to learn and a passion for manufacturing and/or engineering. We ask you to prove this on your CV, through showing us what work experience you have gained in the field already, if you have taken part in any STEM activities, or any volunteering or hobbies you have that are related.
It is important that you are a team player who is open to new experiences and can demonstrate your enthusiasm and commitment to attend college and work at our centre.
Finally, in order to be eligible, we require a minimum of five GCSE's at grade 9-4, including a 6 or higher in Maths and Science.
How do you apply?
We usually advertise on our website from November to February each year. The top applicants will be invited to an assessment centre at the NCC, which consists of a group exercise and an individual interview. Our aim is ensure the process is interesting and not intimidating, but we will be able to answer any questions you may have about applying. Our apprentices always start in September.
How can you find out more?
If you are interested in finding out more, you can speak to our Learning and Development Advisor, Frankie Andrews, who can talk you through the process and advise you on what's involved.
You can also hear from some of our apprentices about how they are finding their apprenticeships! Read our apprentice stories and watch their short films to see what its like to be an apprentice here.