What did you do before your NCC apprenticeship?
I went to college and also started a university course in graphic design. I soon realised that the university course wasn't for me – it was completely different to what I thought it was going to be so I decided to drop out in the first year. I then had a couple of entry level jobs, including working in a warehouse, restaurant and bar work.
What made you decide to apply for the NCC apprenticeship scheme?
I decided I wanted to get into engineering but had very few qualifications in that field so the apprenticeship scheme was a more accessible route for me. I wanted to continue working full-time instead of going back to school so it was a perfect combination of working and earning money, alongside gaining qualifications.
What's a typical day for you?
I usually come into work for 7am as I prefer to come in early and leave earlier. I check my emails and then meet with my boss to discuss my work for the day and if there are any new jobs that I need to start. New jobs typically begin with tool cleaning and prep, laying down the composite fibres and bagging ready for infusion. If this takes less than a day, I'll help out the other technicians or I'll complete some of my NVQ written work for college.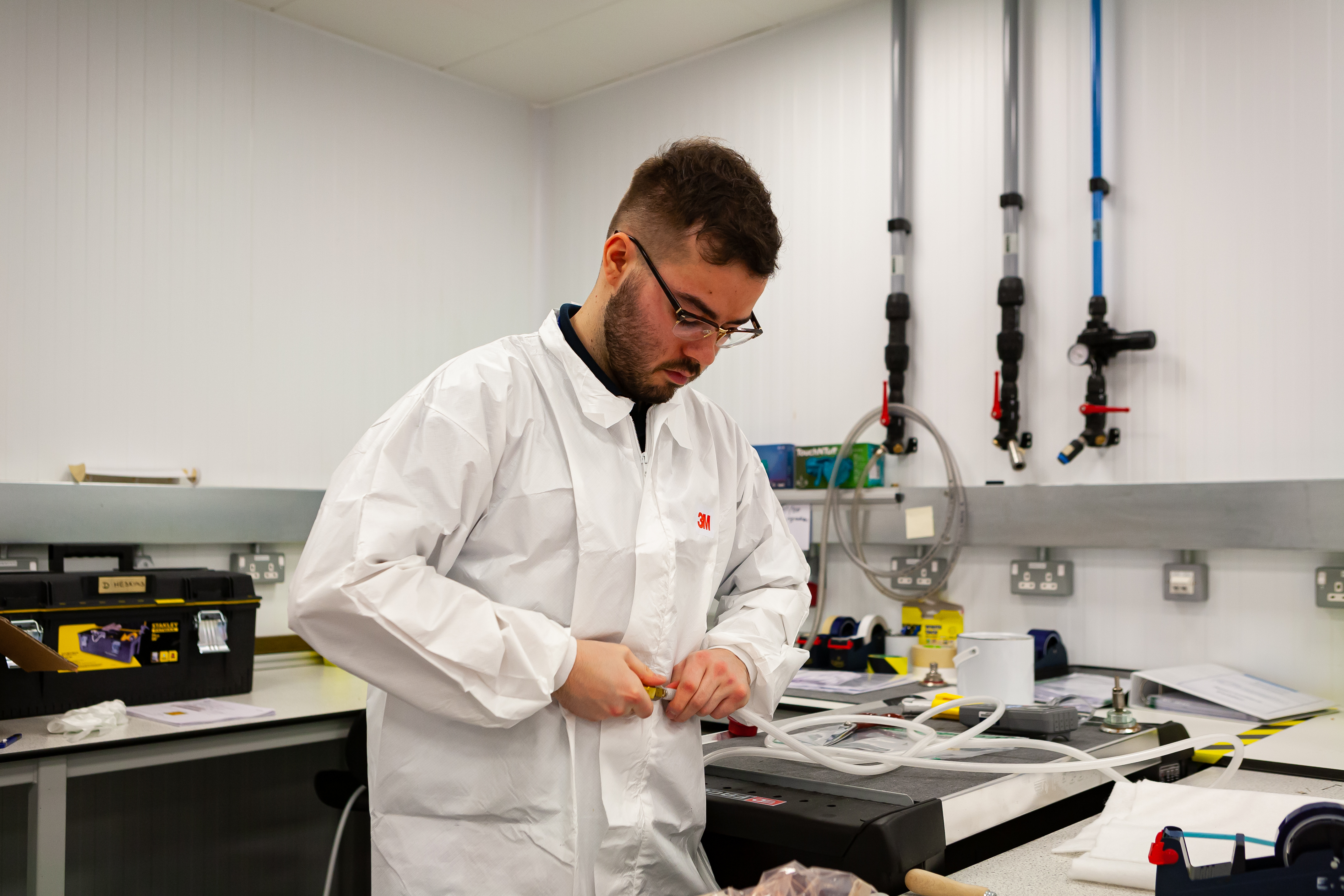 What are the bits of the job you enjoy the most and why?
I really enjoy the practical work involved in my job and being able to work flexible hours to suit me. It's great to be given responsibilities and be a trusted member of the team.
Which jobs aren't so good?
Tool preparation and cleaning can be a bit monotonous! But its just one of those things you have to do on the job. And there are times when some jobs have down time while the composite parts are curing, but there are always things that need doing so we are kept busy.
What's it like at college?
I learn a lot of new things at college, such as mechanical principles, mathematics and technical drawing. It can be hectic at times as we are doing two qualifications alongside a full-time job, but as a result I've learned a lot in a short period of time and I use that knowledge to help me with my work at the NCC.
What do your family & friends think of your career choice?
My family are really happy and proud that I now have a career that I love and have a bright future ahead in terms of my prospects. In previous jobs, there's been very little progression and I didn't feel excited or enthusiastic about what I was doing.
What do you think you'll be doing in five or 10 years' time?
My aim is to get to engineer level having completed further qualifications part-time while working. Working within the area of composites is also really varied and there are a lot of career paths I can go down, working in different sectors.
What advice would you give to people thinking of a career in engineering?
I think a lot of people don't really think about apprenticeships as an option once they've done their GCSEs and are often steered towards the traditional route of doing A levels and then going to university. The university life just wasn't for me, it felt too academic. Engineering really is a fascinating area to work in and if you're a more hands-on person like me and want to get stuck into work while you gain your qualifications, you should definitely consider an apprenticeship. The NCC apprenticeship scheme was definitely the right choice for me.