What did you do before your NCC apprenticeship?
Before I joined the NCC, I worked in retail in a clothing store while completing my A-Levels. After finishing my A-Levels, I took a gap year to look after my mum who needed care after undergoing operations. During this gap year, I undertook work experience at a design consultancy.
What made you decide to apply for the NCC apprenticeship scheme?
I've always loved product design – it was definitely my favourite subject throughout school, and I really enjoy the creativity and problem-solving side of it. I knew that I wanted a career where I was able to implement some of the things that I learnt in product design and where I could do hands-on work. I was actually offered a place at university to study product design but decided at the last minute that an apprenticeship would be much more suited to my learning style. When I saw the advert for the NCC apprenticeship, I just knew I had to go for it. It incorporated both design and manufacture, which was perfect for me.
What's a typical day for you?
I usually come in, check my emails and then plan out my tasks for the day. I then get stuck in on my projects and spend my day either laying up, bagging up or infusing panels. If I have any free time, I'll help out other technicians on their jobs or do some college work. A great benefit of working at the NCC is that are hours are flexible, so I usually arrive at work at 7am so I can get the day started and leave a bit earlier. I'm really pleased to be taking the lead on my current project, so it gives me a bit of freedom to plan out the working week to complete tasks.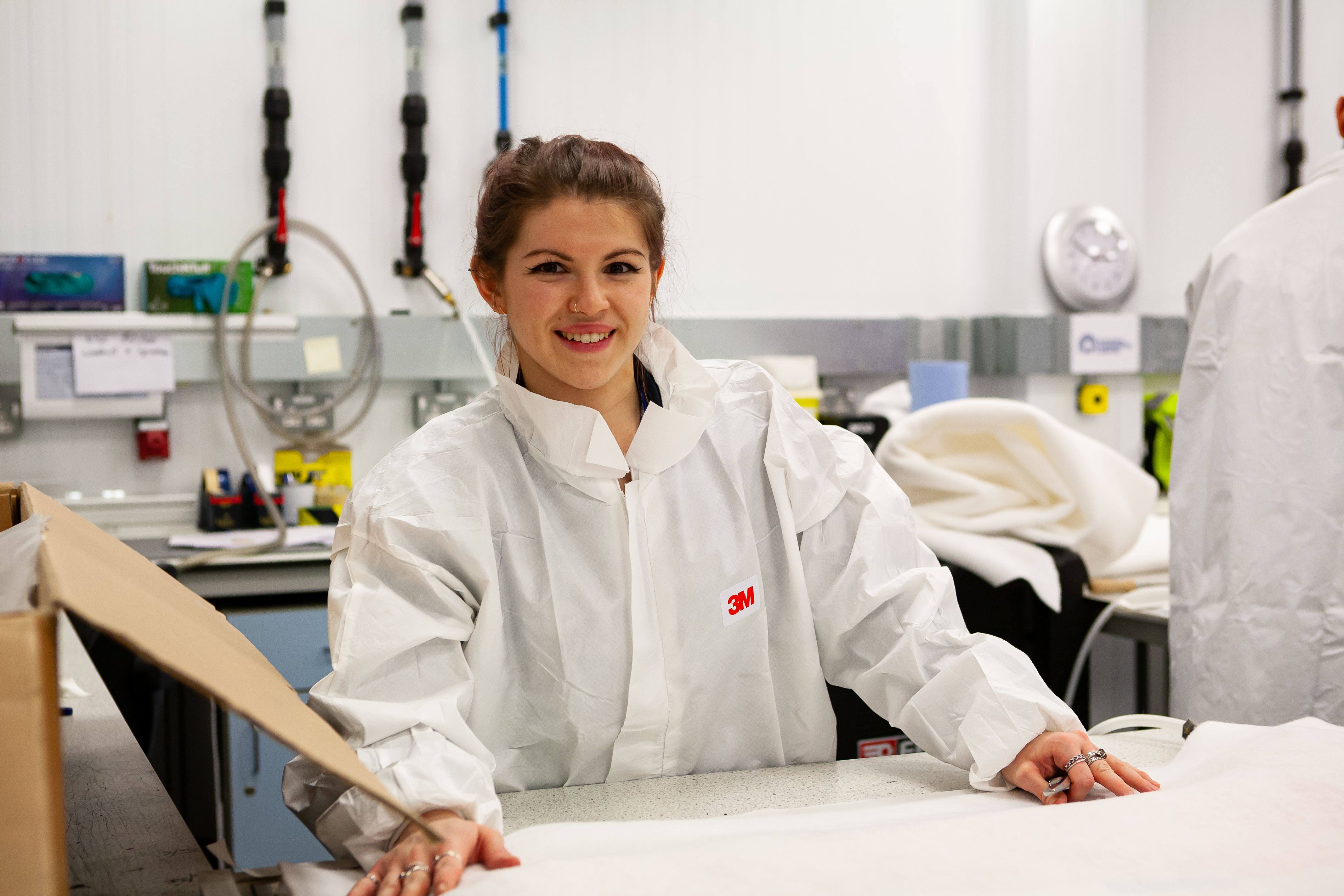 What are the bits of the job you enjoy the most and why?
I love that I can work with my hands all day to complete real jobs for real customers. Its always satisfying to see a customer or other colleague happy with my work. My days are never boring as there is always so much work to do. The flexibility of working at the NCC is also great - on days where I have to start early to make sure a job gets completed to deadline, I know that at the end of the week I can have a shorter, slower pace day.
Which jobs aren't so good?
The worst jobs that I have to do are the cleaning and releasing of panels and tools. It can take a long time and is definitely the most repetitive and boring part of the job, but its just one of those things that needs to be done!
What's college like?
The lessons in college are interesting and varied but can be stressful at times when we have a lot of work on. I use the knowledge I have gained in college, in the workplace and this helps me gain a better understanding of the tasks in the workplace.
What do your family & friends think of your career choice?
Even if they don't fully understand my job, my family and friends are proud of me and my career choice as they know that is something that I really enjoy and is in a professional area that I have always strived to be a part of.
What do you think you'll be doing in five or 10 years' time?
I'd love to own my own business one day, either designing and manufacturing my own products or working towards a higher level of education so that I can become a design consultant.
What advice would you give to people thinking of a career in engineering?
If you are enthusiastic and enjoy working in a fast-paced environment where you can learn on the job, then I would highly recommend the NCC Composite Technician apprenticeship scheme.