Wednesday, 20 - Thursday, 21 Nov 2019
Bristol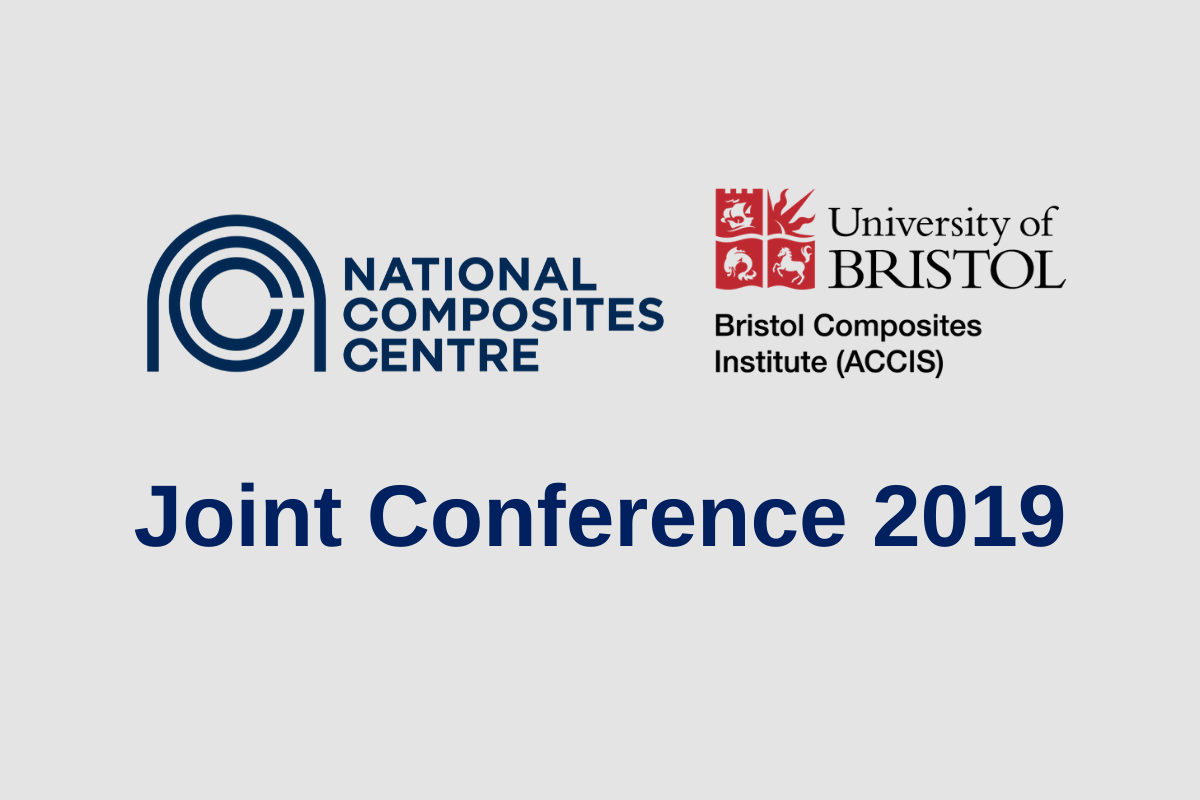 The NCC and the Bristol Composites Institute are holding their 12th joint annual conference, bringing together academics and industry representatives to network and discuss composites research activities taking place at the University of Bristol.
There are two parts to this conference: the first day is a tour of the NCC and its world-class facilities and an opportunity to network. The second day is a conference at the Bristol Composites Institute with a morning session with presentations from academics outlining the most recent advances in technology and research in their field, from composites design and manufacture to smart materials and structures.
20th November 2019 - National Composites Centre
Agenda
16:00 - 18:00 – Demonstrations of new equipment, tour and reception at the National Composites Centre. 
Visit the NCC, the UK's world-leading research and development facility; where innovators come when they need to make things lighter, stronger, smarter and more sustainable. With access to 'beyond' state-of-the-art technology and the best composites engineering capabilities in the world, the NCC works closely with University of Bristol to help customers solve the most complex engineering challenges of our time.
The NCC is 90% of the way through adding 10 new world-class industry 4.0 ready manufacturing capabilities. On the tour you will see where research meets industry, including world-record beating automated fibre placement, the UK's largest biaxial composite overbraider, high volume manufacturing including composite overmoulding equipment. You'll also find out more about the NCC's design, verification and materials development capability. Participants also get a sneak peek behind the scenes of the installation of the NCC's unique ultra high rate deposition capability, complete with 20 metre modular oven and verification cell that can handle full-sized wings for single-aisle civil aircraft.
Follow this tour with a chance to network with fellow delegates. 
21st November - Bristol Composites Institute, University of Bristol
Agenda
09:15 – Registration, coffee and posters
10:00 – 12:45 Conference starts: 
Welcome and introduction – Professor Michael Wisnom, Director, Bristol Composites Institute
Guest speaker Professor Emile Greenhalgh, Imperial College London – Future Challenges for Structural Power Composites 
Update on Manufacturing & Design research – Ole Thomsen, Professor of Composites Design and Manufacture
Local approaches in composites manufacturing – Dr Dmitry Ivanov, Senior Lecturer in Composites Manufacturing
NCC Technology Pull-through quickfire – introduced by Dr Giuseppe Dell'Anno, Chief Engineer, NCC
Coffee break
Update on Structures research – Stephen Hallett, Professor in Composites Structures
Developments in imaging approaches for assessment of composite structures – Janice Barton, Professor of Experimental Mechanics
Update on Materials research – Fabrizio Scarpa, Professor of Smart Materials and Structures
Cellulose-based Composites: From Tunicates to Timber – Steve Eichhorn, Professor in Materials Science and Engineering
Quickfire presentations to introduce posters, introduced by Professor Richard Trask
12:45 – Lunch and poster display
13:45 – Afternoon session: 
NCC core programme – introduced by Dr Giuseppe Dell'Anno, Chief Engineer, NCC: 

Thermoplastic Forming (Simon Wilkinson)
Complex Architecture Multi-Textile (Jamie Hartley)
Process Monitoring (Amit Visrolia)
Data-Driven Automated Deposition (Nick Costa Ford)
14:45 – Conference close