Bristol's hugely popular, annual walking festival – Bristol Walk Fest is back! The month-long celebration of all things walking throughout our beautiful city will take place from 1st to 31st May 2022, with a wealth of in-person walking related events and activities, self-guided walking routes and challenges, and much more for you to enjoy throughout the national walking month of May.
This year you can experience an engineering themed walk around Bristol's harbourside thanks to the Digital Trailblazers app created by the DETI Inspire team from UWE Bristol's School of Engineering.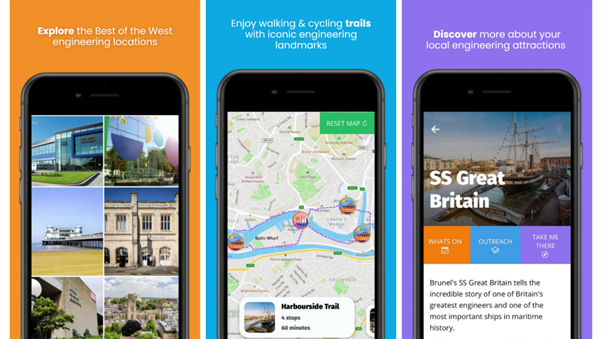 The mobile app features several self-guided trails found across the city, highlighting iconic engineering landmarks, organisations and businesses, allowing the user to explore the rich engineering heritage of our city, whilst also signposting some of our local Digital Trailblazers - organisations and businesses who are pioneering the latest in digital technologies.
The app is free to use and easily downloaded from the App Store or Google Play, so residents can enjoy the different trails at their own pace throughout the entire month of May as part of the city's walking festival.
Events for May half-term
And for an extra special experience for the whole family to enjoy, this May half-term there will also be an opportunity to meet some real-life engineers at locations along the Harbourside Trail, on Saturday 28th May and Monday 30th May.
Beginning at the site of Brunel's SS Great Britain, the Harbourside Trail loops around the floating harbour for an enjoyable 5km walk. Come and meet some of UWE's student engineers at the start of the trail or at the mid-way point at We The Curious science centre. Our engineers at both locations will have plenty of exciting tech for you to try, including the chance to explore and engineer our city digitally, using the game Minecraft!
You do not need to register for the events, just turn up at the starting point (by the SS Great Britain) at 11am or 2pm on either the 28th or 30th May. More information about the walks can be found on the Bristol Walk Fest website.
Digital Trailblazers has been developed by the DETI Inspire team at UWE Bristol's Department of Engineering Design and Mathematics (EDM) with funding from the Digital Engineering Technology & Innovation initiative (DETI). For more information about the project visit https://digitaltrailblazers.net/about